Organizing/Scientific Committee
Note:
From
July 5
onwards new participants can register only on-site in Vienna.
For the in-person participants, confirmations of payments will be provided at the conference; contact us if you need one prior to that or require particular information on such a confirmation.
Special sessions with session organisers
Dear participants,
This is a welcome message with some introductory information about Sumtopo2022.

Registration will be on Monday Jul 18th morning (8:00 to 12:00) at the first floor on either side of the main stairwell of the Faculty of Mathematics (Oskar-Morgenstern-Platz 1). The lectures are all on the second floor.
Late registration is possible in Seminar Room 14 (also 2nd floor).

You will receive your welcome pack with practical information, the conference program, confirmation of attendance and payment. These confirmations will contain names of the participants, the amount you paid for the registration fee and the title of your talk. We ask the participants that require special information on the confirmations (e.g. the affiliation or tax number of the university) to contact us directly through sumtopo2022.mathematik@univie.ac.at and state explicitly what needs to be written on required confirmations.

Social dinner will be held on Wednesday evening in a Heuriger. You will find more information on that in your welcome pack.

Please refer to the conference website for information on how to get to the Faculty of Mathematics, or from the airport to Vienna city etc. For other assistance requests and the like, please send us an email.

Talks finish (well) before 19:00 and we with the exception of Monday (welcome party in the Skylounge at the 12th floor) will have to be out the building by 19:00. Please comply and help us to keep a good relation with the security personnel.

Covid-19 rules in Vienna: facial FPP2 masks are obligatory in public transport, hospitals and pharmacies. Such masks are available to buy in most supermarkets and pharmacies. If you arrive through Vienna International Airport we recommend you buy FPP2 masks already at the airport. Also inside the conference venue, wearing a FPP2 mask is required whenever one is not consuming food or drink or giving a lecture. For current Covid regulations to enter Austria please see
https://www.oesterreich.gv.at/en/themen/coronavirus_in_oesterreich/pre-travel-clearance.html

However, contact your airline if they require some additional documents.

Best wishes and we wish you safe travel,
The organizers

Funding
Funded in part by: ASL, NSF, FWF, Uni Wien

Student Association of Symbolic Logic members may apply for (limited) ASL travel funds to attend the conference. Please note that applications must be received three months prior to the start of the meeting. For further information contact the ASL administrator Shannon Miller (asl@uconn.edu) and see https://aslonline.org/meetings/student-travel-awards/.

An NSF grant will financially support selected US participants to attend the conference. Awards will be made based on the strength of the applicants' scientific track record, the fit of their research to the themes of the meeting, and whether they will be presenting their research at the meeting. Junior researchers, women and underrepresented minorities are especially encouraged to apply. To apply for the NSF support please submit the following information by email to sumtopo2022nsf.mathematik@univie.ac.at: a brief statement about your research and how it fits within the scope of the meeting; an estimate of your expenses to attend the meeting; your CV. Applications for this grant are no longer accepted.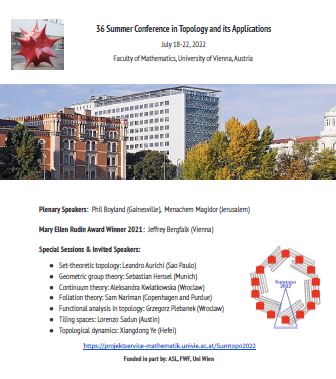 | | |
| --- | --- |
| | Topology Proceedings paper submission deadline is January 1, 2023. Please refer to http://topology.nipissingu.ca/tp for manuscript preparation requirements, and the list of editors. |